The Iron Lady: Valuable Lesson
0:46
The Iron Lady:
Valuable Lesson
Meryl Streep is very convincing as Margaret Thatcher, the "Iron Lady" Prime Minister who dominated British politics and national life in the 1980's. In this scene, the Prime Minister accuses the Opposition of focusing more on the way she is saying something than on what she is actually saying.
Кључни речник
honorable
screech
heating
in spite of himself
Methinks
attend
fault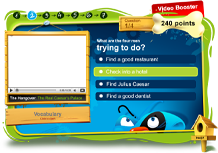 Почни одмах да учиш енглески!
Video Booster је интерактивна вежба енглеског језика у 6 корака која ти помаже да научиш и вежбаш енглеске речи, идиоме и граматику из видео исечака.
Free Trial
Бесплатна проба
Да би покренуо овај Video Booster активирај своју  3-ДНЕВНУ БЕСПЛАТНУ ПРОБУ. Након активације, добијаш слободан приступ за преко 1.000 видео вежби које су попут ове, као и визуелним речницима и играма за учење енглеског језика.
Преглед видеа
The Iron Lady: Valuable Lesson
9 коментари