Lonely Planet: Venice Beach in Los Angeles
128:00
Lonely Planet:
Venice Beach in Los Angeles
Welcome to the centre of LA's beach culture, where you can work on your tan, surf or play volleyball, and rub shoulders with hustlers, artists and exhibitionists on an ocean-front walk.
Кључни речник
Head on over
firsthand
hustlers
drudgery
produce
b-ball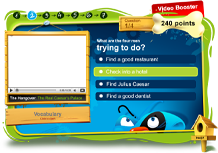 Почни одмах да учиш енглески!
Video Booster је интерактивна вежба енглеског језика у 6 корака која ти помаже да научиш и вежбаш енглеске речи, идиоме и граматику из видео исечака.
Free Trial
Бесплатна проба
Да би покренуо овај Video Booster активирај своју  3-ДНЕВНУ БЕСПЛАТНУ ПРОБУ. Након активације, добијаш слободан приступ за преко 1.000 видео вежби које су попут ове, као и визуелним речницима и играма за учење енглеског језика.
Преглед видеа
Lonely Planet: Venice Beach in Los Angeles
14 коментари